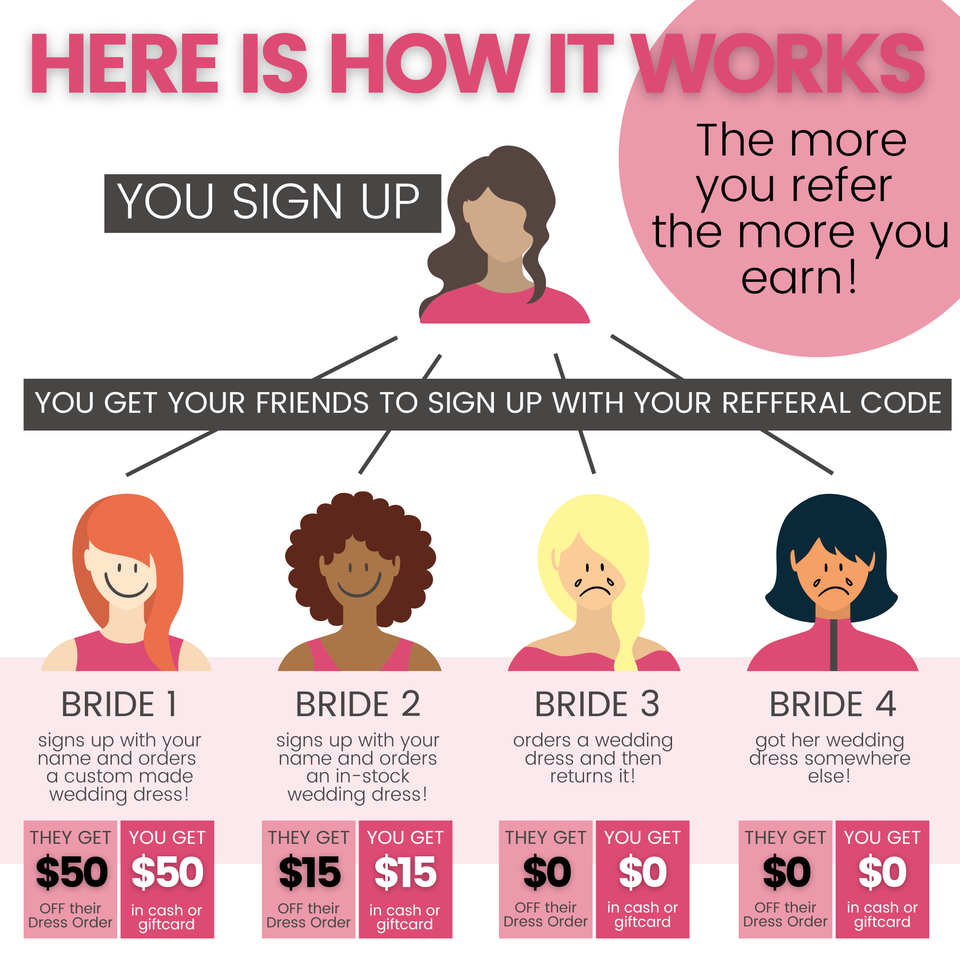 FAQ about our Rewards Program
Does this mean I am an employee of Smarter Bridal if I refer brides?
NO, any referral partner is not our employee, and operates as an independent third party.

When will I be paid for my referral?
Payment will be made by the end of the month of the bride receiving her wedding dress.

What if the bride returns the wedding dress?
Unfortunately the bride must keep the dress and no refunds given for us to give the payment to the person who referred them to us.

How many brides can I refer to Smarter Bridal?
We do not have a cap on the number of brides you can send us. Each successful sale of a wedding dress you send us receives the same reward.

What is the minimum price someone needs to spend to get the discount and me to earn my payment?
Wedding dress sales must be a minimum of $650 to qualify.  In-stock wedding dresses do not qualify.

Can I refer to myself and get double the bonus?
Clever, but NO!  We are a small business and doing this to gain more exposure and thanking our biggest fans for spreading the love for our business.  We reserve the right to refuse payment if we suspect a fraudulent referral.

What if no one referred me, can I still sign up for rewards?
YES, you sure can!

How do I get my payment?
We are excited to offer multiple options on how you can redeem your payment via prepaid Visa and multiple gift card options and multiple charities you can donate too with your payment.

Do I need to have been a customer of Smarter Bridal to refer people?
NO, this is not required.  However to qualify you need to be signed up for the program.